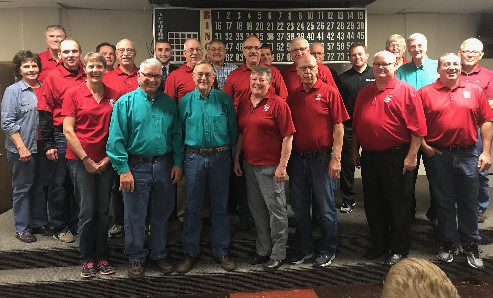 Who We Are
We are here not for income, but for outcome
The McPherson Optimist Club is always looking to grow our awesome group.  We have a very active board and organization that continuously strives to enrich the lives of our local youth.  Through several fundraisers and events the McPherson Optimists are able to contribute to dozens of local organizations in town, buy Christmas gifts for 100 teens, provide scholarships, have a cookout for every elementary student, support our schools, and help with various projects to give back to McPherson's youth.
If you are a person that wants to make a difference for the kids of McPherson, the McPherson Optimist Club is the group for you.  You can dive right in and join any of the causes we support or bring in your own ideas as we are always looking for new ways to help.
Start by reaching out through this form or messaging us on Facebook and we're happy to chat more about the opportunities and answer any questions you have.  
JOIN US…..become an Optimist Member
ACTIVITIES & ORGANIZATIONS WE SUPPORT
• Challenger Park Basketball and Ice Skating Rink
• Babe Ruth Baseball • United Way
• McPherson Family YMCA
• Special Olympics
• American Cancer Society – Camp Hope
• McPherson County Community Theatre
• Side basketball goals for Washington and Eisenhower Elementary Schools
• McPherson Debate Booster Club
• Toys for Kids
• McPherson Education Foundation
• Optimist Junior Golf
• McPherson Middle School Rachael's Challenge
• 8th Grade Recognition
• McPherson Forensics Club
• Feed The Kids
• McPherson County Food Bank
• Community Thanksgiving, Inc.
• McPherson City & County DARE Program
• McPherson County Water Festival
• McPherson High School Band
• Optimist Club Easter Egg Hunt
• School Supply Train
• Prairie View Summer Camp
• McPherson Family Life Center
• McPherson County Child Passenger Seat Program
• McPherson Police
• Trigger Lock Program
• McPherson County Literacy Program
• Star Reading Program
• McPherson Fire Department Literature
• Big Brothers / Big Sisters
• McPherson County Safe Kids
• American Legion Boys State and Girls State
• McPherson Resource Council Angel Tree Program
• SNAG Golf
• Lakeside Park Playground Project
LET US KNOW IF YOU ARE IN NEED OF A HELPING HAND!
If your cause needs support, fill out our request form and we will get in touch!
Request For Funds
DONATE TODAY TO HELP THE OPTIMIST BRING OUT THE BEST IN YOUTH